Read Testimonials from our Customers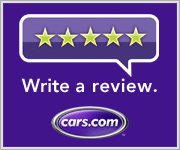 I (with my better half along), had the pleasure of purchasing one of Mr. "Jim" King's automobiles today. Actually, I viewed the vehicle on-line and then visited his web site for additional information. I read his sales policy, and after viewing the vehicle I wanted, I personally talked to him about the transaction...what would be required of me...what he would put on the table...It seemed a fair deal. I traveled to Marion to complete the pick up phase of the purchase....The vehicle was exactly as described (if not better when viewed in person)...Jim handed me and my wife the keys to give it a good try out and "lookover"...It did not take much. Because of the used status of the vehicle, he was most helpful in referring me to an aftermarket warrantee service that will insure my purchase for the next few years against major repairs should they occur. The biggest check out was the drive home...450 miles...through traffic, over mountains, and continuous running...What a truck! No rattles, no skips, no malfunctions of any kind! I am most happy to have found King Motor Co, and the truck I wanted.
Bob B. - Manchester, GA
Jim is very easy to do business with! Great pictures and accurate info on website! Truck was better than advertised! Pleased with entire transaction!
Cynthia W. - Annapolis, MO
I am a business man in Marion, Arkansas. I am currently 67 years old and have purchased many vehicles during my lifetime. My last three vehicles were purchased from Jim King of King Motor Co in Marion. I have worked with many dealerships and used car dealers in my lifetime, and without a doubt, NO ONE has been as honest, caring, and fair as Jim King. I personally had rather buy a used car from Jim King over anyone else that I have dealt with in my entire life. Excellent products with excellent service; the very best!
Randy C. - Marion, AR
If you're interested in purchasing a well maintained, "Near Perfect" pre-owned vehicle, King Motor Co. is the place to go! I recently purchased a "Flawless" 2008 Ford F-450, and was pleasantly surprised with the professionalism and high level of Customer Service displayed at King Motor Co. Before I committed to buying the vehicle, the owner, Jim King, patiently answered every question, and walked me thru the purchase process. He provided a Carfax Report and historical documentation for the vehicle; he ensured that I was comfortable with the purchase, and confident that I was getting a "beautiful and well maintained vehicle".

On purchase day, it was like making a deal with a good friend! Jim's Team picked me up at the Memphis Airport, escorted me to the vehicle, and assisted me in conducting a thorough vehicle checkout. It was a pleasant, pressure free experience. King Motors Co. exemplifies "Customer Service and Professionalism." If you're in the market for a quality pre-owned vehicle, King Motor Co. is the place go!

I'm looking forward to being a Repeat Customer!
Rick R. - Colorado Springs, CO